It's not always enough to lump everything into a general care bucket, and we feel strongly of that in treating women in chiropractic care.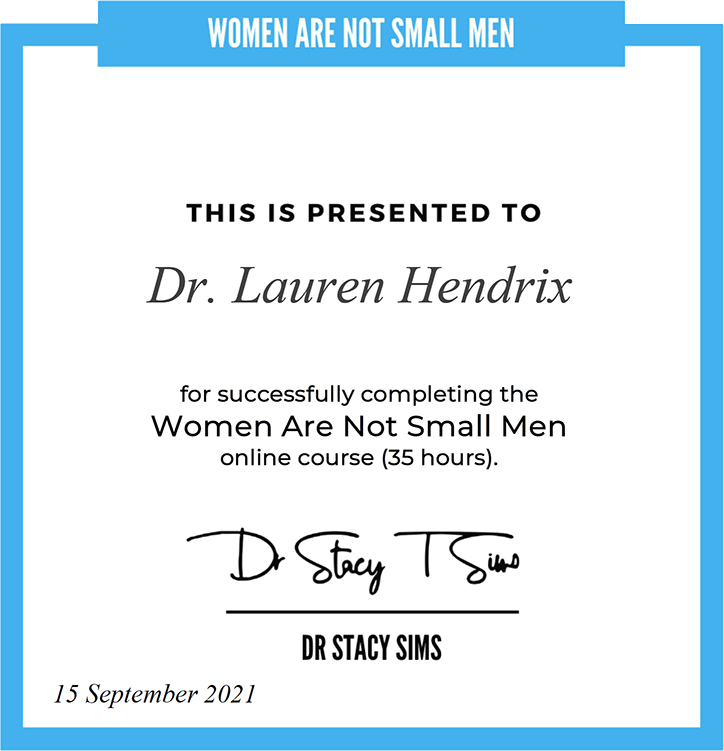 Dr. Lauren has a certification through Dr. Stacy Sims, an international exercise physiologist and nutrition scientist who focuses on women. As we say, "Women are not small men!". Dr. Lauren specializes in working with a women's physiology, not against it.
Our approach to treating women in a chiropractic care setting is different than that of men. We understand and consider a female's physiology to better determine the source of problems and rely on open dialogue to discuss the best course of treatment. 
Common Issues for Women
Pain points that we often see in women can include:
Navigating what "diet" to use. (Spoiler Alert: Intermittent Fasting & Keto are not as effective for active women as they are men!)

Auto immune diseases

Irregular Menstrual Cycles

Headaches and/or other pains that change with each menstrual cycle

 

Having "normal test results" but still feeling "off"

Being "tired but wired"

Stress induced pain

Impact of hormones as they normally cycle and change and effect inflammation and healing

Learning what kinds of exercise we are best suited for as we progress through life

 

Learning what each woman's "Maintenance Care" needs to be in order to feel strong no matter their age

 

Maturing women should keep joints moving through chiropractic care so they can keep moving! 
Pre-natal Chiropractic Care
Expecting a new addition to the family? You can (and should) see a chiropractor throughout your pregnancy! Dr. Lauren performs the Webster Technique throughout a woman's pregnancy. Webster Technique focuses on the sacrum and obtaining proper positioning and movement of the woman's pelvis to allow the baby to have proper position and mom to feel better and deliver easier.
If mom is not having pain, we treat a pregnant woman with the same scheduling frequency as her OB. 
Most pregnant women can follow a schedule like this:


Weeks 4 to 28 of pregnancy. Go for one checkup every 4 weeks (once a month).
Weeks 28 to 36 of pregnancy. Go for one checkup every 2 weeks (twice a month).
Weeks 36 to 41 of pregnancy. Go for one checkup every week (once a week).
If you have complications during pregnancy, you will likely need to be seen more often. We welcome our partner or support person at your prenatal checkups. And we also send a letter to each expectant mother's OB to let them know that we are working on that mom and that we'd love to collaborate on care if they need us. 
Dr. Lauren is also certified in the Webster Technique which allows her to provide the gold standard in prenatal care. The Webster Technique is a specialty technique designed to neutralize the pelvis and create as much space as possible for baby to get into a good position for birth – typically head down.
The technique includes:
pelvic adjustments
muscle work
ligament release
World Class Team Focused on Women's Health
While the conversation around specific chiropractic care for women's health is newer, Dr. Lauren is working to promote more frequent discussions with women to talk more openly and candidly about whatever condition they may be experiencing. Dr. Lauren stated, "Women don't have to be alone and feel helpless in their situation. Let's have a conversation!" 
There is an incredible push for new research and education on female specific treatments and care. Being at the forefront of this research allows Dr. Lauren to support and educate her patients throughout the phases of life in the way they deserve. We will always aim to help you create your healthcare "dream team"!